Merry Christmas, Happy Holiday, Happy Hanukkah & a Healthy & Happy New Year!
Flowers by Ann, Personally Yours is open until 2 p.m. on Friday, December 24th, 2021
We have the greatest driver to deliver your flowers!
Add on a box of Esta Truffles in a red ornament box
Esta Signature Truffles start with a smooth outer layer of the finest chocolate and on the inside they are filled with a mouth watering molten layer of one of our divine flavours. They are luscious enough to win you over with just one bite. 30 Assorted Truffle Gift Box
Assorted Truffles inside with a legend of all flavours included
Contains 30 Assorted Truffles 
Esta Holiday 15 Assorted Truffle – Christmas Tree Cone Bag 
Cone bag contains 15 Assorted Truffles
Our products may contain Peanuts or other traces of Tree Nuts. 
WE ARE TAKING ORDERS RIGHT UP UNTIL DECEMBER 24TH AT ELEVEN A.M. On the 24th we deliver in the morning and then anything else will be sent by Taxi.
Votive holder with Angel filled with A Rose and Christmas Decorations – great to give for a dinner party, etc.
We create beautiful hand-held floral bouquets, vase, and table centerpieces – We Love Flowers!
Nesting a Kitras Glass Ball Year Round Ornament in a lush display of winter greens makes for a Perfect Gift for someone on your list that 'has everything'.
Add a wrapped box of chocolates, or a handblown candy cane, or heart, or even a handblown glass pickle!
Fruit & Gourmet Baskets start at $85.00 – $150.00.  The deadline for ordering is Saturday, December 18th and we require 24 hours notice please, thank you.
HOME FOR THE HOLIDAYS GIFT CRATE
Shown at $165.00 
Product Description
Make any evening merry with this festive duo of holiday gifts. Your choice of wine can be picked up and displayed with a festive centrepiece of roses, seasonal berries, and lush winter textures. Beautifully gift Packaged Please note: Wine gift box delivery is available within our local delivery zone only. You deserve the best. If an item is unavailable, we'll sub in products of equal or greater value.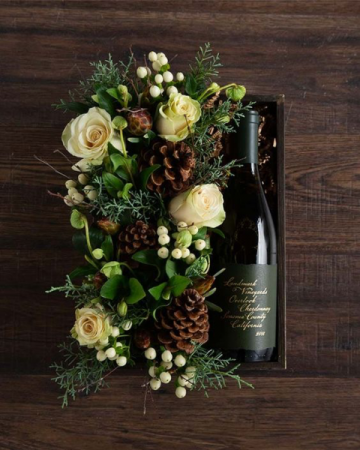 Kitras Glass Ornament ~ Great Gift to Hang in Window or Tree Year Long $54.00
Kitras Glass Ornament Beautifully Designed in a bed or fresh winter greens or floral design starting at $125.00 and up
Poinsettia Plants range in prices according to how we are dressing them.  Please telephone to check availability. Thank you.
Save
Save
Save
Save
Save
Save
Save
Save
Save
Save
Save
Save
Save
Save
Save